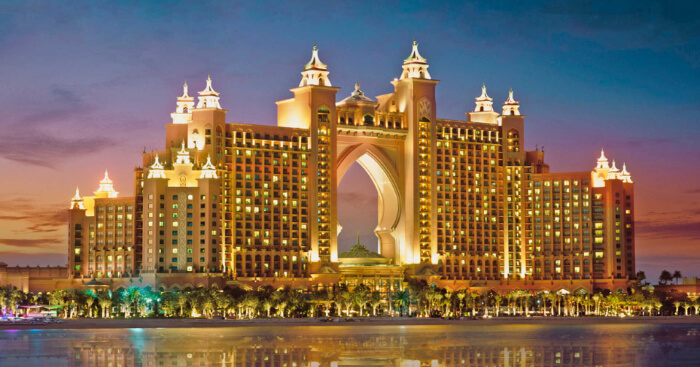 1- Du Arena
An outdoor entertainment venue designed for concerts with the ultimate live sound and visual performances. Du Arena boasts the biggest stage in the Middle East. Located 45 minutes drive from Dubai and 10 minutes from Abu Dhabi down town. It has a capacity of 25,000 to 50,000 audience depending on the layout and seating. With a parking facility for 5,000+ cars and hotels surrounding the arena it is an ideal venue for large scale concerts.
2- Du Forum
An indoor venue located on Yas Island Abu Dhabi. It has a capacity of 2,500 seated and 4,500 standing. The venue is perfect for live shows and sporting events too. It provides a parking facility for 1,500 cars on site. In 2017 Du Forum won the Best Indoor Event Venue by UAE Business Awards.
3- Coca Cola Arena
A state of the art facility situated in the heart of Dubai, with a capacity of 17,000 this arena is perfect to host events all year long! A multipurpose indoor arena that allows you to host sporting events, family entertainment, comedy shows, exhibitions, gala dinner and so much more! It is equipped with a state of the art sound system and 400 sqm of ribbon LED screens.
4- Dubai World Trade Center
Regions largest purpose built events complex for events and exhibitions. With multiple spaces that suit exhibitions, music concerts, comedy shows, trade shows, conferences and more, this venue can be utilized in variations depending your event requirement. The venue also has multiple benefits like branding, accessibility, ample parking, productions and many more services made available to organizers.
5- Festival Arena, Intercontinental Hotel
A perfect venue space that can be personalized or branded for any event. With a capacity of 10,000+ indoor and outdoor space friendly for concerts, exhibitions, gala dinners and weddings. Festival Arena overlooks the Dubai Skyline and provides lush green views of the golf course. There is ample parking for up to 1,500 cars and even more easier to cab it to. With the venue being a part of Intercontinental Hotel, IHG, food and beverage is the last of your worries.
6- ADNEC
A multi award winning venue that offers organizers of exhibitions, events and conferences with 12 exhibition halls that can be interconnected column-free!. With a capacity to host upto 6,000 audience seated for conferences. Your event layout is completely customizable and flexible here. ADNEC has 6 hotels on site connected to the venue and plenty of dining options. Situated in the capital of UAE, 20 minutes drive from Downtown Abu Dhabi and just 90 minutes from Dubai International Airport.
7- Meydan Racecourse
Home to the richest horse race world cup in the world! Meydan Racecourse has a grandstand capacity over 60,000. The venue has hosted some of the largest music events in Dubai with a standing capacity of 15,000. Enjoy five star dining options from Meydan hotel and ample parking facility.
8- Burj Park
Host your event in Dubai with the world's tallest building as your backdrop! Burj Park is a island located within Downtown Dubai, this multi-use venue allows you to host music concerts, product launches, exhibition and more. With spectacular views and ease of transportation, there are many ways for your audience to arrive here. It has a capacity of 7,500+ concert goers and depending on your layout you can accommodate a seated audience of 4,500.
9- Dubai Media City Amphitheater
This venue is a crowd favorite for events in Dubai. Having hosted major events from local and international concerts to festivals, exhibitions, the amphitheater has an impressive outdoor stage and grandstand facility to accommodate 15,000 people. This multipurpose facility has easy access with your own vehicle and public transport.
10- Dubai Sevens
A purpose built stadium that is great for all sporting events as well as concerts. Located 20 minutes from Downtown Dubai, this venue has two arenas to accommodate up to 40,000+ concert attendees. With 15,000 parking spaces it is one of the biggest outdoor arena for events in Dubai. One of Middle Easts biggest concert was hosted here for One Direction in 2015 with 32,000 fans attending.